CANDICE BOHANNON
"Of all the paint brands I have ever tried, nothing compares to the quality, character, pigment load, and versatility of Rublev Colours Artist Oils. It is like working with hand ground oil paints daily without needing to grind them myself."
ABOUT THE ARTIST
Growing up in a rural area of northern California, Bohannon developed an aesthetic for the wild beauty of nature early in life. Born with a passion and desire to create works of art, Candice pursued the life of a fine artist. She studied painting, drawing, sculpture, printmaking and philosophy at the Laguna College of Art and Design, graduating with honors and a Bachelor of Fine Arts in 2005. Her paintings have been featured in Fine Art Connoisseur, American Art Collector, Southwest Art, The Artist's Magazine, International Artist, Artists and Poets, Professional Artist Magazine, ArtSee, and multiple art books. Candice has exhibited in museums and fine art galleries throughout the United States. Her work has received numerous honors including: Fine Art Connoisseur's Award of Excellence in 2013, multiple awards from Art Renewal Center including 2nd Place in Figurative Painting 2016, 1st Place in The Artist's Magazine Annual Art Competition in 2012, and the Portrait Society of America's Certificate of Excellence in 2012.
Bohannon's artwork consists of deeply compassionate, penetrating and emotive figurative pieces along with intensely studied works from life and nature. It is contemporary yet naturalistic, soulful yet rational, and explores upon the deeply complex nature of human existence. Her body of work hums with quiet intensity, it is expressive, thoughtful, and captures the haunting beauty of the natural world.
CANDICE BOHANNON
ARTIST STATEMENT
I strive to portray the real yet intangible emotions, experiences, memories, and expectations of a living being, to capture the glimmer of life, the ethereal nature of the human soul, and our eternal search for comfort and familiarity in the sublime unknown.
CANDICE ON RUBLEV COLOURS
Natural Pigments sets the bar for quality art materials, and provide artists with historical pigments that would have all but disappeared from common use without their efforts. Of all the paint brands I have ever tried, nothing compares to the quality, character, pigment load, and versatility of Rublev Colours Artist Oils. It is like working with hand ground oil paints daily without needing to grind them myself. Despite the vast array of colors they offer, there is no more important pigment to my work than their Lead White, I use it every day in my studio, and can't imagine what I would do without it. I most often paint in oils, but have also dabbled in egg tempera and Ceracolors, and have found the products for both of these mediums of the highest quality. Their research and literature on artist's supports has been instrumental in helping me choose hard substrates for my paintings, and I love having lead primed Artefex panels on hand when I am ready to paint.
Here are the colors most often used on my palette:




t








Ice Flow, oil on aluminum composite material, 43 x 45 inches, 2015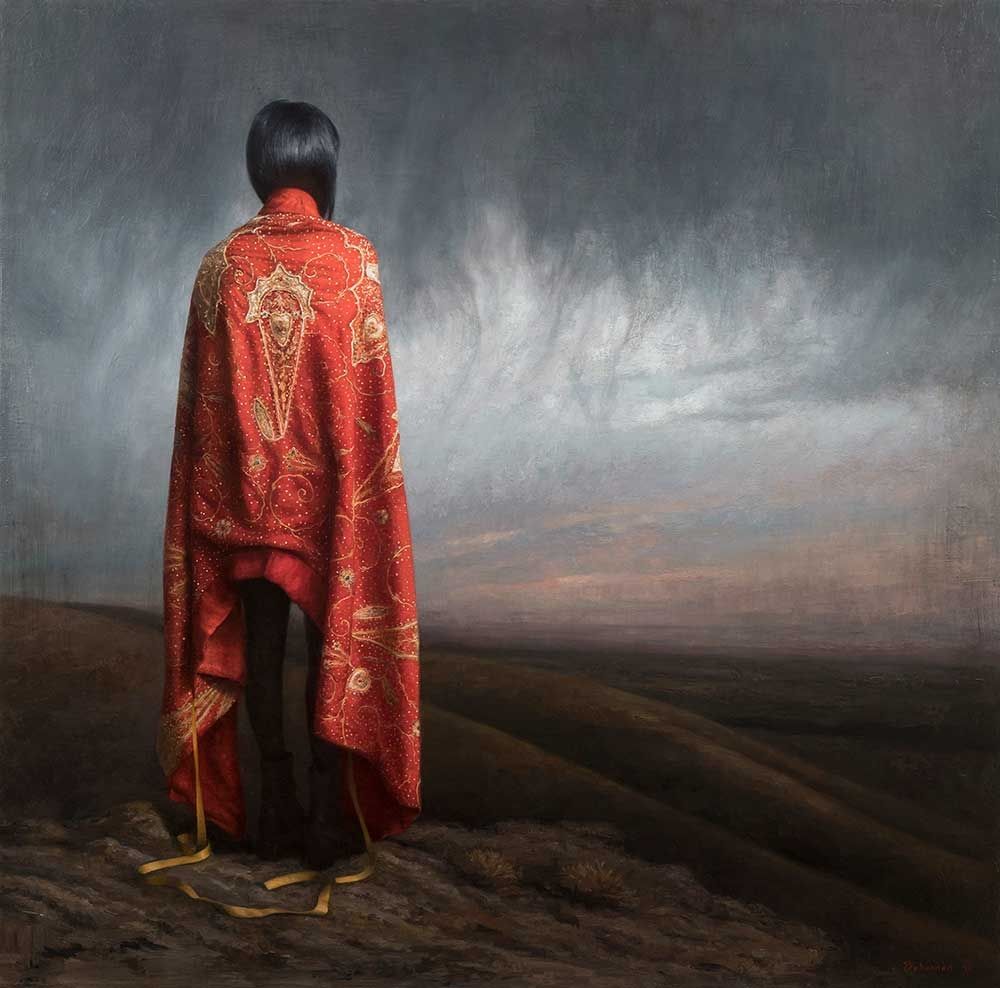 Long Valley, oil on linen mounted on aluminum composite material, 33 x 33 inches, 2016
Bed of Gold, oil on canvas, 8 x 14 inches, 2013
Fire Cloud, oil on linen, 19 x 32 inches, 2016