Pink Pipestone Watercolor Paint
Pink Pipestone, is a pink clay from Minnesota; the clay stone was carved by Native Americans into pipes and also used as a pigment.
Pink Pipestone, or red catlinite, is a type of clay (argillite, or metamorphosed mudstone) from quarries located and preserved in Pipestone National Monument outside of Pipestone, Minnesota. Because it is fine-grained and easily-worked, it is prized by Native Americans for use in making sacred pipes such as calumets and chanunpas. In watercolor, this clay makes permanent, soft pink that has low tinting strength and lightly staining.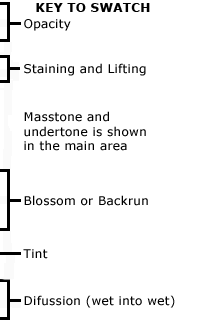 Rublev Colours Pink Pipestone Watercolor
Note: Colors swatches are shown in mass tone, at top, mixed with an equal amount of water and brushed out toward the bottom. All pictures of color swatches in this web site are only approximations of the actual color of the watercolor paint. We have taken every care to match the color in these pictures on calibrated color monitors to the actual color. However, because of the wide variance in color monitors the results you get may vary.
Color Information
Single Pigment:
Pink Pipestone (Red Catlinite)
Binder:
Gum Arabic
Color Information
Color:
Pink
Color Index:
Not Listed
Chemical Name:
Natural iron(III) oxide-hydroxide in aluminum silicate
Chemical Formula:
FeO(OH).nH2O and Al, Si.
CAS:
51274-00-1 (iron oxide-hydroxide)
Properties
ASTM Lightfastness:
I
Opacity:
Transparent
Tinting Strength:
Low
Staining:
Low
Granulating:
Moderate
For a detailed explanation of the terms in the table above, please visit Composition and Permanence.
Notes
Note: Some separation of pigment and medium may occur in Rublev Colours Watercolors and is a natural process when no stabilizers are added to paint to prevent this from occurring.
More Information

| | |
| --- | --- |
| SKU | 850-509 |
| Brand | Rublev Colours |
| Vendor | Rublev Colours |
| Processing Time | Usually ships the next business day. |
| Color | Red |
| Pigment Type | Inorganic, Earth, Natural |