Cyprus Raw Umber Light Watercolor Paint
Cyprus Raw Umber Light is a semi-transparent brown with good tinting strength, medium grained.
Cyprus Raw Umber Light is a semi-transparent brown with good tinting strength, medium grained.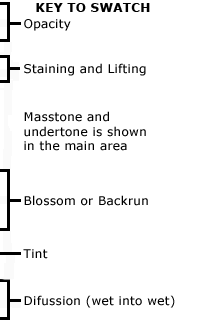 Rublev Colours Cyprus Raw Umber Light
Note: Colors swatches are shown in mass tone, at top, mixed with an equal amount of water and brushed out toward the bottom. All pictures of color swatches in this web site are only approximations of the actual color of the watercolor paint. We have taken every care to match the color in these pictures on calibrated color monitors to the actual color. However, because of the wide variance in color monitors the results you get may vary.
Composition and Permanence
Cyprus Raw Umber Light

Color:
Brown
Binder:
Gum Arabic
Additive(s):
None
Pigment Information
Pigment:
Cyprus Raw Umber Light
Pigment Classification:
Natural inorganic
Colour Index:
Pigment Brown 7 (77491) (77492) (77499)
Chemical Name:
Iron-manganese oxides
Chemical Formula:
Fe2O3
CAS No.
Properties
Code:
613
Series:
1
Opacity:
Semi-Transparent
Tinting Strength:
Moderate
Staining:
None
Granulation:
Moderate
Flocculation:
Moderate
Lightfastness:
I
Permanence:
A
Safety Information:
Based on toxicological review, there are no acute or known chronic health hazards with the anticipated use of this product. Always protect yourself against potentially unknown chronic hazards of this and other chemical products by avoiding ingestion, excessive skin contact, and inhalation of spraying mists, sanding dusts, and concentrated vapors. Contact us for further information or consult the SDS for more information.
For a detailed explanation of the terms in the table above, please visit Composition and Permanence.
Notes
Note: Some separation of pigment and medium may occur in Rublev Colours Watercolors and is a natural process when no stabilizers are added to paint to prevent this from occurring.
More Information

| | |
| --- | --- |
| SKU | 850-613 |
| Brand | Rublev Colours |
| Vendor | Rublev Colours |
| Processing Time | Usually ships the next business day. |
| Color | Brown, Umber |
| Pigment Type | Inorganic, Earth, Natural |
Hazard Identification
Classification according to EC Regulation 1272/2008: This product is not classified as hazardous according to the CLP/GHS Directive.
Classification according to EC Regulation No. 67/548 or No. 1999/45: The material is not subject to classification according to EC lists. This product does not require classification and labeling as hazardous according to CLP/GHS.
Safety Designation
P280 Wear protective gloves/ clothing/ eye/ face protection.
P281 Use personal protective equipment as required.
P501 Dispose of contents/ container according to regional, national and international regulations.